The project partner Kapsch TrafficCom installs roadside infrastructure for V2X communication and video analysis. For the installation, existing physical infrastructure on the road is used, e.g. light poles or trolleybus infrastructure.
A V2X ITS-G5 RSU (Roadside Unit) enables communication with bicycles and Connected Automated Vehicles (CAV). Video analysis data is also transmitted to roadside users and a central platform via the RSU.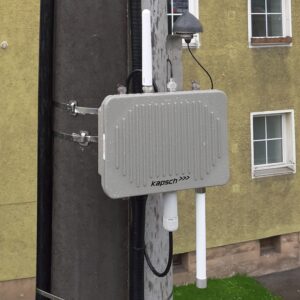 Two different cameras are used for the video analysis. In addition to a standard camera with a viewing angle of approximately 90°, a 180° camera that provides a better overview of the entire intersection situation is used. The processing of the videos takes place directly on site in a controller (edge computing).